The year was 1959 - the "Golden Age" of oil and gas exploration.  In the midst of those "rough-and-tumble" times, E.R. Hines, Jr. and brothers L.H. and Robert Moon formed Miss-Tex Production, Inc.
The trio was well-suited for the tasks of the day; Hines as a geologist, Robert Moon as a landman, and his brother L.H. specialized in raising venture capital.  For 10 years Miss-Tex was successful with the exploration and development of drilling prospects across Louisiana, Mississippi and Alabama.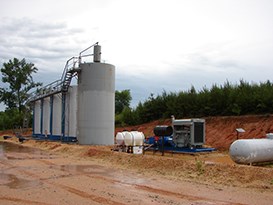 In 1969, Miss-Tex was dissolved.  E.R. Hines and Robert Moon then re-joined as equal partners to form Moon-Hines, and continued their success in exploration and development.  In 1978, E.R. Hines' son Scott joined the company as a landman, and in 1986, his other son Todd Hines joined as a petroleum geologist.  Their success continued in the spirit of the company's founding.
Sadly, Robert Moon passed away in 1992, and E.R. Hines passed away in 2017.  His sons, Scott and Todd Hines, carry on the family tradition with Moon & Hines, LLC.  The company is active in exploration and development of drilling prospects, and also screens outside prospects and provides geological services to clients when needed.
In 1981, the partners of Moon-Hines joined with petroleum engineer Terry A. Tigrett, Jr. to form Moon-Hines-Tigrett Operating Co., with the purpose of operating oil and gas wells in Mississippi, Alabama, and Louisiana.
Tigrett ran the company until his retirement in February of 2011. At that time, Scott and Todd Hines took over operations and added engineer Greg Mueller, a graduate of the University of Tennessee, with over 30 years of drilling and production experience.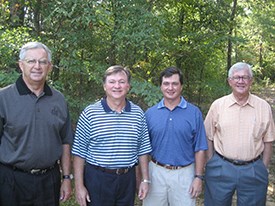 Moon-Hines-Tigrett is still carrying on the tradition; active and successful in the drilling, completing and producing operations of many wells throughout the years.
From its beginnings, Miss-Tex and Moon-Hines successfully focused their exploration for oil and gas across Louisiana, Mississippi and Alabama. In recent decades, Moon-Hines has been very active in shallow gas exploration in the Black Warrior Basin of N.E. Mississippi and N.W. Alabama., and in the last 5 years their efforts have been concentrated on exploring for oil in South Mississippi and Alabama.
Moon & Hines, LLC and Moon-Hines-Tigrett currently employ nine full-time employees and two part-time employees. Both companies maintain an office in Ridgeland, Mississippi.